Abu Dhabi, United Arab Emirates – 27 September 2023: Sheikh Shakhbout Medical City (SSMC), one of the UAE's largest hospitals for serious and complex care and a joint-venture partnership between Mayo Clinic and Abu Dhabi Health Services Company (SEHA), has been awarded the Gold Initiative Certificate under the theme 'Arab Healthcare Digital Transformation Star' by the Arab Hospitals Federation in partnership with the Health care Information and Management Systems Society (HIMSS).
The award was presented to SSMC during the opening ceremony of the annual MedHealth forum on Sept. 25 in the presence of regional health ministers, VIPs and c-level executives from regional public and private hospitals.
Distinguishing SSMC's implementation of digital technologies across its diagnostic, treatment and administration processes, the award validates the hospital's efforts in providing excellent medical care and the highest levels of patient experience.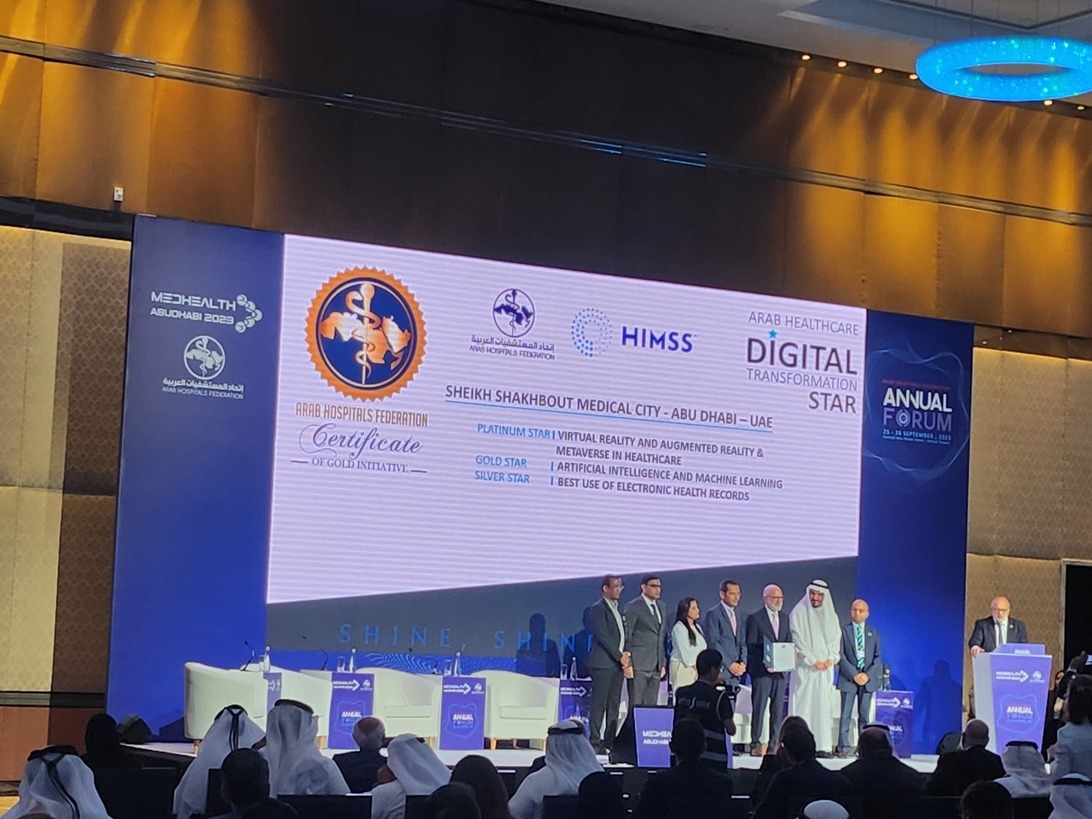 Commenting on the award, Dr. Naser Ammash, CEO of SSMC, remarked: "This recognition highlights the efforts of our team of experts, in different specialties, leveraging the power of data and advanced digital solutions to improve patient's experience and outcome."
"We extend our gratitude to the Arab Hospitals Federation and HIMSS for this prestigious acknowledgment. We are committed to the advancement of science of health care delivery in our transformation journey," he added.
The accolade recognizes SSMC's application of digital solutions across three categories. The first is the use of virtual reality, augmented reality and metaverse in health care, for which SSMC has earned a Platinum Star.
The second, which secured SSMC a Gold Star, is the use of artificial intelligence (AI) and machine learning. SSMC highlighted how it has been using an AI tool, called DaLi, which is used to detect Acute Leukemia.
The third category of the award recognizes SMCC's use of electronic health records (EHRs) to improve clinical outcomes and operational reliability, while reducing costs. SSMC submitted a case study on how it achieved complete digitalization when managing an Acute Kidney Injury, illustrating how EHRs allowed it to seamlessly manage the entire care pipeline. For this, SSMC was awarded the Silver Star.
Since its opening, SSMC has cultivated a culture aimed at providing the most trusted and highest quality of care delivered by a multispecialty practice enhanced by medical education, research and innovation in a state-of-art facility. Moving ahead, SSMC will continue to leverage technology to maximize its capabilities when it comes to serving the needs of patients in Abu Dhabi and the region.